Just launched for 2020 is "Skinny Brew Coffee" from It Works Global. This new product is boasting incredible results, even after just a few days.
If you're in need of some extra cash, see how It Works Skinny Brew coffee is enabling people all over the world to have a great new side hustle!
This amazing before and after using Skinny Brew coffee is after just 7 days! It's almost hard to believe, but there are dozens more of these pictures and stories. You just have to try it to believe it!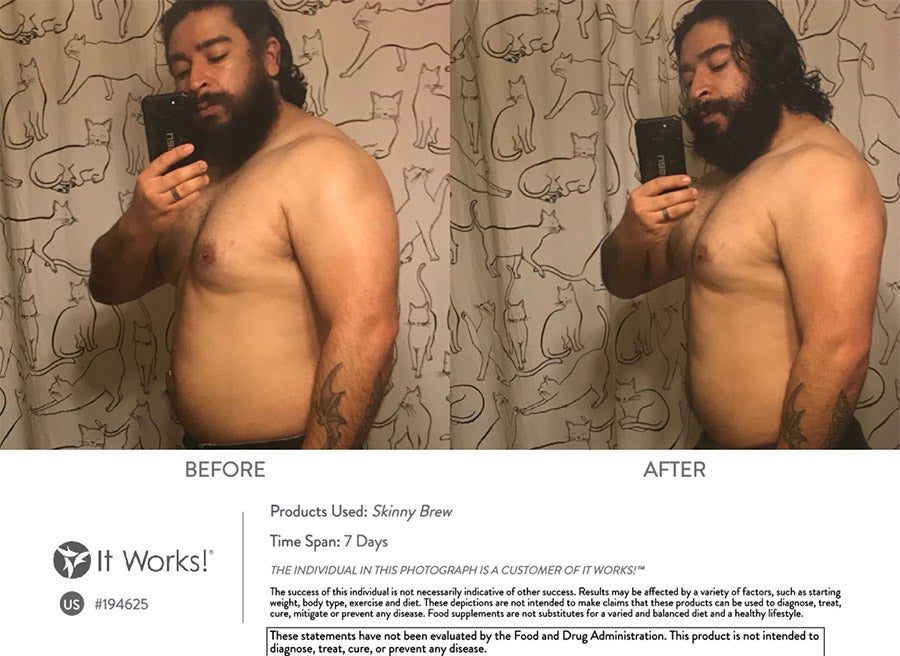 So what is Skinny Brew?
Skinny brew is a new formulation created to help you boost your energy, burn fat, and get better mental focus. Unlike traditional coffee, Skinny Brew is loaded with six different Nootropics to help you give your brain a mega-boost of mental acuity. L-theanine, Alpha-GPC, Rhodiola Rosea, Brahmi Herg, and Griffonia Simplicifolia will have your brain humming like you never thought possible.

Not only is there a unique blend of nootropics, there are also 5 different sources of planted based caffeine! This unique blend will boost your fat metabolism and help you maintain a healthy weight.
And, you won't believe how delicious Skinny Brew coffee is!
What are the Skinny Brew Ingredients?
Good news for you. Skinny Brew is an instant, french roast coffee that is chock full of amazing ingredients with a ton of perks! (no pun intended)
In fact, this amazing coffee has the coffee equivalent of 3 shots of Starbucks espresso! Yep, that's right, this is not for the caffeine sensitive individual. And, if you're living a healthy keto lifestyle, you'll be happy to know that Skinny Brew is keto friendly as well!
Here's a full list of the ACTIVE ingredients:
Caffeine – Five plant-based sources of caffeine are included: French Roast Coffee, Green Tea, Green Coffee Bean, Guarana, and Yerba Mate: these combine to energize you, boost your fat metabolism, and help you shed those extra pounds!
EGCG – EGCG is a unique polyphenol that you'd typically find in Green Tea and it works as an antioxidant to support your healthy weight loss goals.
Nootropics – 6 powerful nootropics are found in Skinny Brew: Natural Caffeine, L-theanine, Alpha-GPC, Rhodiola Rosea Root, Brahmi Whole Herb, and Griffonia Simplicifolia Seed will help to increase your motivation, help you to concentrate longer and make you more alert!
Chromium – Chromium has incredibly powers when it comes to reducing your appetite and curbing your cravings. You NEED a healthy dose of Chromium in your diet.